Stride with Purpose: Mastering the Art of Men's Leather Boots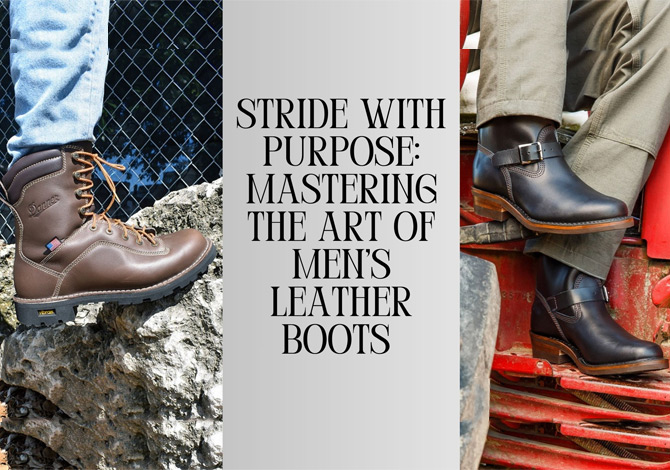 Formal Boots for Men:
Formal Style and Design: Step up your game with formal boots that bring a polished vibe boasting refined lines, minimal stitching, and a polished allure. Dress boots elevate your style for the most special occasions.
Elegant Materials: When it comes to formal boots, the materials you choose hold the key to elevating your footwear experience. From the opulence of leather to the commanding shine of patent finishes, and the refined gleam of polished calf, these materials are more than just style statements – They promise comfort and style that lasts.
Polished Calf: The epitome of elegant leather, polished calf leather exudes a refined aura that complements formal ensembles flawlessly. Classic and sturdy, its glossy finish lends an air of sophistication, ensuring you make an impression from head to toe. 
Patent Shine: For those who seek to command attention, patent leather offers a distinct sheen that catches the light. It's a statement material that adds a touch of glamour to formal occasions.
With each material choice, your formal boots transcend mere footwear to become an expression of your commitment to quality, style, and the finer things in life.
Color Palette: Classic is the name of the game with colors like black, brown, and oxblood. These hues effortlessly match formal wear, giving you an edge in traditional style. These colors complement formal attire and are suitable for professional settings.
Sole: In the world of formal boots, the sole, which is frequently underestimated, plays the role of both a style enhancer and a comfort provider. Designed with meticulous consideration, these soles infuse your every step with a blend of refinement and comfort that extends beyond the surface.
Leather Soles: Timeless and sophisticated, leather soles evoke an air of tradition. They offer a seamless harmony with the boot's polished appearance, ensuring a sleek profile that complements your formal ensemble.
Leather-Rubber Fusion: The art of balance unfolds as leather and rubber unite, offering a unique fusion of style and practicality. While upholding the elegance of leather, the addition of rubber enhances traction and comfort, allowing you to tread confidently and comfortably through any occasion.
Your stride becomes a testament to the marriage of style and ease, as the sole of your formal boots carries you  with distinction through extended wear. Here, comfort is the companion of elegance, ensuring that each step  tells a story of unwavering commitment to both aesthetics and comfort.
Elevated Moments: Enter a world of grandeur as formal boots walk you through the stages of life's most remarkable chapters. From important business meetings and classy get-togethers to weddings and top-notch events– every stride oozes style, showing off the impact of picking the right Boots.
Casual Boots for Men:
Easygoing Style and Design: Embrace practical designs that effortlessly move between your work and leisure life. With varying styles like work boots, hiking boots, Motorcycle boots, desert boots, and combat boots. These boots often have more stitching and detailing, contributing to a rugged and laid-back look.
Material Mix: Casual boots can be crafted from a diverse selection of materials, each offering their unique blend of style and functionality. Here's a glimpse into what these materials bring to the table.
Leather: A timeless choice, leather exudes durability and rugged charm. It's ideal for casual boots that need  to withstand the wear and tear of daily adventures while adding a touch of classic appeal to your look.
Synthetic Fabrics: Synthetic fabrics like mesh or technical materials bring modern innovation to casual boots. They often offer enhanced breathability and are well-suited for active pursuits, making them an excellent option for those who enjoy outdoor activities.
Color Palette: Our casual boots sport classic shades like earthy tones and the ever-reliable black. The color options reflect the versatility and informal nature of these boots.
Sole: In the realm of casual boots, the sole plays a crucial role in ensuring your comfort and mobility across diverse landscapes. Crafted with an emphasis on practicality, these soles are your steadfast companions for the adventures that lie ahead.
Rubber Soles: A steadfast choice, rubber soles provide a blend of cushioning and traction that's perfect for navigating urban streets and natural paths alike. They offer stability and grip, ensuring confident steps wherever your journey takes you.
Synthetic Outsoles: Engineered for performance, synthetic outsoles elevate the game with their lightweight design and modern technologies. These outsoles often feature enhanced traction patterns, making them an ideal choice for those who embrace an active lifestyle.
Lug Soles: For those who venture into rugged terrains, lug soles step up to the plate. With their deep, chunky tread patterns, these sturdy soles deliver an exceptional grip on uneven surfaces, making them the ideal choice for off-road explorations and outdoor escapades.
With rubber, synthetic and lug soles at the helm, your casual boots become more than just footwear – they become tools of exploration, empowering you to traverse a myriad of terrains with comfort, stability, and unwavering confidence.
Occasions: Casual boots are perfect for everyday wear and less formal occasions. They can be worn with jeans, chinos, and other casual outfits. Whether you're running errands, going for a hike, or spending time outdoors, casual boots offer style and comfort.
In summary, formal boots are your go-to for special occasions, adding a touch of class, while casual boots cater to your everyday needs, striking a balance between style and practicality. Your choice between the two tells a story who you are, underlining that your boots are more than just footwear – they're a reflection of your authenticity.